Read Time:
6 Minute, 27 Second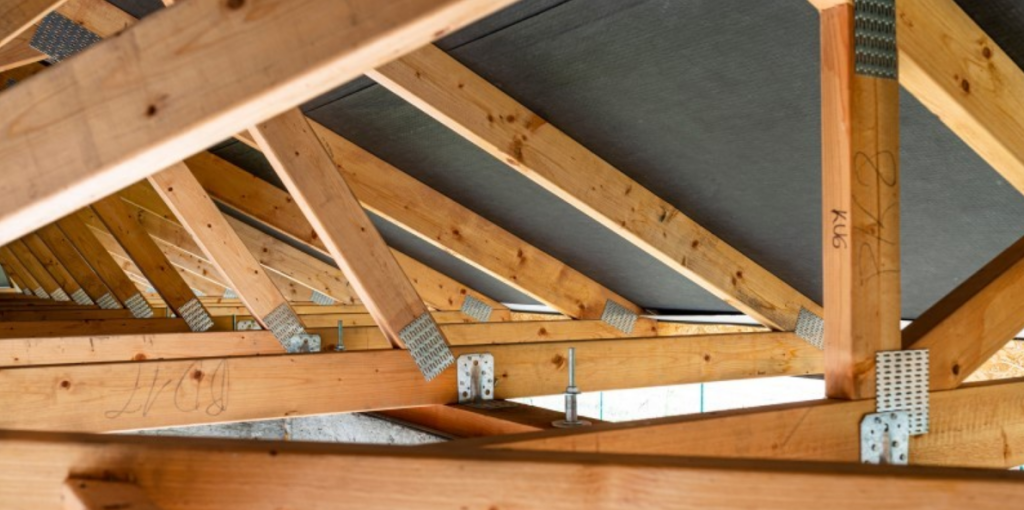 Devon Jackson
Your roof is as important as an offensive lineman in football. Those not familiar with the sport know that these people, who are mostly anonymous, serve to protect the quarterback. People only become aware of them when there is a breach of defense and the QB gets sacked. Similarly, most people only remember their roof when it starts leaking and water pours through the ceiling. Now until early August marks monsoon season in Northern New Mexico, during which unpredictable mid-afternoon rainstorms appear suddenly and bring intense downpours of rain to Santa Fe … including on your roof.
As a result, now is a good time not to take your roof for granted. Although many roofers will be busy this monsoon season, it's never too late to schedule a maintenance check or to get to know your roofer.
THE ROOFS HERE ARE DIFFERENT
Most roofs do a good job of keeping what's underneath them warm or cool, comfy and dry, given what they're asked to do and what they're exposed to day in and day out. Due to the area's 7,000-foot elevation, roofs in Northern New Mexico have to withstand two extremes: precipitation (snow, rain, monsoons) and heat (hotter, dryer heat than in other parts of the country).
On a typical summer day, it often hovers near 80 degrees and is sunny. The roof, however, can reach temperatures as high as 120 to 140 degrees. Then, when night falls, the temperature usually drops to about 60 degrees — and consequently the roof's temperature can fluctuate up to 80 degrees. Pat Garcia of Sangre de Cristo Roof, which was established in 2019, explains that this expansion-contraction process of roof materials is what leads to a slow leak.
"We have more snow up here and extreme temperature fluctuations," agrees Hillary McPartlon, who runs McPartlon Roofing, which was founded by her father, Brian, and his brother, Kevin, in 1985. (Brian bought Kevin out in 1993; Hillary took over in 2018.) "The fluctuations are so drastic," she says, "and that really wears out a roof."
This wear and tear can be fixed with ease when identified early, in its early stages. According to Garcia, if it's not tended to, "the damage will only increase." He went on to note that at our high elevation the sun damages roofs without a UV-ray protective coating, causing them to deteriorate and become worse over time. Waiting for maintenance or having someone take a look when it's already leaking could be too late.
LEARN EVERYTHING YOU CAN ABOUT YOUR ROOF
As a DIY homeowner, it is important to be aware of your roofing system. Matt Segura, founder of Southwest Spray Foam & Roofing, states: "Having more flat roofs than any other city in the country, this climate zone puts these roofs to the test. Snow, hail and monsoons take their toll over time and when a leak does occur it can create catastrophic damage." It is not uncommon for homeowners in this area to have multiple layers of debris such as tar, gravel, pumice and dirt on their rooftops which can measure in feet high. When faced with these issues, an excavation job may be needed.
81 percent of home accidents involve ladders, according to McPartlon. Once you're safely up there, look for cracks in your roof.
As for the age and shape of your roof, they also make a huge difference. "The different types of roof systems really determine how long it lasts," says Garcia, "but if it's installed properly, it should last at least 20 to 30 years."
It's also a good time to call a roofer if you don't know the condition of your roof, even if it's not leaking.
Among the critical areas Segura recommends paying attention to are:
The canales
The skylights
Doors and windows
A penetration or transition point is a point where the roof penetrates, meets a wall, or ends, such as plumbing vents or electrical conduits.
The canales on your roof are also essentially part of your roof. McPartlon says that if they aren't maintained, they become damaged by the sun. "People often overlook the fact that they need to be painted or stained." If you don't seal, paint or stain those kinds of things, they can also start to fail."
Plastic cement doesn't work well on a Northern New Mexico roof unless you're an experienced roofer. "I'm not a big fan of it, because it doesn't last very long," says McPartlon, who sits on two committees for the National Roofing Contractors Association. It has lower VOCs, but it doesn't last very long for environmentally sensitive homeowners.
McPartlon is not impressed with TPO (thermoplastic polyolefin), which is a single-ply, three-layer membrane used on flat roofs. She claims it does not fare well in her climate and requires more maintenance than other roofing systems due to its susceptibility to UV rays and getting hail damage. Furthermore, the material can easily be damaged when someone walks across it wearing boots with sharp edges, resulting in unnoticeable holes.
She also doesn't like coatings. "That's usually like putting a Band-Aid on a broken artery," she says. "Thicker membranes or ones with modified bitumen and asphalt can flex with temperature changes."
Segura cautions that sometimes a new roof may not be necessary. "Maybe it's just a leaky skylight. Here's a $200 fix opposed to a $25,000 roof." This type of repair can also be done by the homeowner or a maintenance crew.
Segura suggests hiring someone to inspect your roof after each rain or snowfall if you don't live here full-time.
BECOME FAMILIAR WITH YOUR ROOFER
But roofing issues usually circle back to . . . roofers — and that's where things get complicated. If you want to prevent big roofing jobs in the future, hire a certified roofer now. As Segura advises, "it's important to establish a relationship with a roofer, a trusted and certified roofer," and to set up a maintenance schedule.
Furthermore, he suggests getting roofing records and keeping the same roofer or roofing company, someone who knows your roof's history.
Rather than react, Garcia advises taking a proactive approach. "If you wait until it leaks, you're involving the insurance company and having to make interior repairs. It's certainly more expensive."
"Most people wait until an emergency happens and then go with a patch," says McPartlon. "But patches are not guaranteed."
Most roofers are already booked solid by that point. "Often," says Segura, "the customer feels like, 'I can't get anyone back to me.' But when you already have a contract with a roofer, they're faster to respond and more likely to help you."
Often, Garcia says, "we can extend the life of an existing roof, saving you thousands or tens of thousands of dollars."
The roof beams should be raised high
When it comes to professional residential flat roofing contractors, homeowners must prioritize durability, longevity, and aesthetic appeal. A well-installed roof not only enhances the overall curb appeal of a home but also provides essential protection against the elements, such as harsh weather conditions and temperature fluctuations. Various roofing materials, including asphalt shingles, metal, clay tiles, and slate, offer distinct advantages based on the specific needs of the homeowner, considering factors such as budget, climate, and desired aesthetics. Additionally, proper maintenance and periodic inspections are crucial for extending the lifespan of the roof and preventing potential issues, such as leaks and structural damage. Working with certified roofing contractors who have a proven track record of excellence and offer comprehensive warranties can ensure that homeowners make informed decisions and enjoy a secure and aesthetically pleasing roofing solution that enhances the overall value of their property so come to The Roof Technician flat roofing services in Toronto.